Legends Golf and Country Club
1700 Legendary Blvd Clermont, FL 34711
GENERAL INFORMATION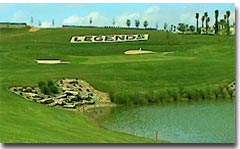 This beautifully manicured 18 hole course stretches 6911 yards from the gold tees and is a test of any golfer's skills at a par 72 with Slope Rating of 130 and a Course Rating of 72.9.

Selected in the January issue of Florida Golf Central Magazine as Number 1 in the list of Top Ten Golf Courses in Central Florida for 2002, this course is destined to continue to be recognized as one of Florida's finest courses. In a recent issue of Lihn's Orlando Golf Guide, Legends was described as "Featuring vertiginous elevations, cinemascopic horizons and breathtaking views, this handsome addition will definitely elevate your spirits".

The beauty and challenge of the course continue with more scenic overlooks and holes that dare the skill of every level of golfer but we would rather you play our great course for yourself than our describing every hole to you here. Oh, and yes, the water tower you see from Hwy 27 is on the golf course. The cart path from #13 green to #14 tee passes right under it.
COURSE DETAIL
Built:
2001
Architect:
Clifton, Ezell, & Clifton
Fairway:
Bermuda
Green:
Bermuda
Winter Fairway:
Rye
Winter Green:
Poatrivialis
Honors:
COURSE AMENITIES
Pro Shop
Practice
Lessons
GPS

Club House
Restaurant/Bar
Rentals