Falcon's Fire Golf Club
3200 Seralago Blvd Kissimmee, FL 34746
GENERAL INFORMATION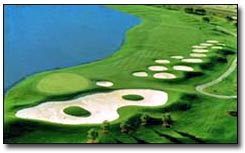 Falcon's Fire Golf Club is a Rees Jones Signature Design Masterpiece. One of the many reasons why Falcon's Fire remain's one of the premier Orlando golf courses is because the course pays respects to the timeless traditions of the game of golf. This natural, classic 18 hole, par 72 golf course establishes the standards by which all golf facilities are evaluated. Boasting tournament playing conditions 12 months a year, Falcon's Fire is arguably the finest maintained golf facility in Central Florida. Falcon's Fire Golf Club is not only recognized as one of the finest Orlando golf courses, but also nationally. Winning the 1999 Apex Award as one of North America's Top 10 Golf Tournament Facilities, and playing host to the Oldsmobile Scramble National Finals and the Senior PGA Tour Regional Qualifying Tournament 1993 - 2001, Falcon's Fire truly stands alone at the top of the list of "must play" public golf facilities. Voted 4 stars by Golf Digest's Places to Play publication, and voted "One of America's Top 100 Golf Shops" by GSO Magazine 1996, 1998, 1999.

Falcon's Fire continually receives worldwide recognition for the quality of its overall golf experience. Offering a plethora of first class amenities such as complimentary valet parking , club cleaning, and a friendly and helpful professional staff; Falcon's Fire sets itself apart from other Orlando golf courses by providing an atmosphere and level of service that is usually reserved for members of the most prestigious private country clubs. At Falcon's Fire Golf Club you will enjoy being a "Member For The Day."

Falcon's Fire far exceeds every golfer's expectations. The transition from a great Florida golf experience to a long-lasting treasured memory awards all players who challenge it. Falcon's Fire is, without a doubt, "The Golf Experience That You Just Can't Stop Talking About."
COURSE DETAIL
Built:
1993
Architect:
Rees Jones
Fairway:
Bermuda
Green:
Bermuda
Winter Fairway:
Rye
Winter Green:
Poatrivialis
Honors:
Rated 4 Stars by Golf Digest's "Places to Play"
COURSE AMENITIES
Pro Shop
Practice
Showers
Lessons
GPS

Club House
Lockers
Restaurant/Bar
Rentals